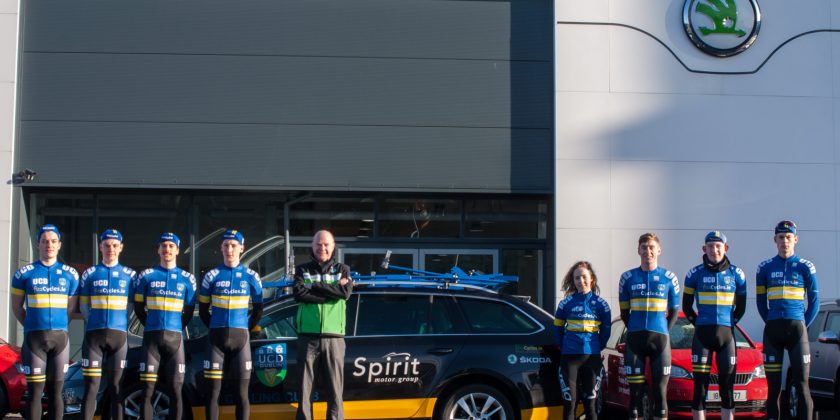 UCD Cycling
Members of the UCD Cycling club visited Spirit Skoda Sandyford recently for the unveiling of their newest club member, their official team car sponsored by Spirit Skoda. There was also a chance for the team to show off their new team kit for 2018.
For over twenty years UCD Cycling has been at the forefront of university and domestic competitive cycling in Ireland. Spirit Skoda has been the official car sponsor of the club since 2013.
As part of our continued sponsorship, Spirit Skoda will be providing the UCD cycling club with the comfortable all-rounder, the ŠKODA OCTAVIA COMBI for the upcoming 2018 season. The ŠKODA OCTAVIA COMBI offers numerous 'Simply Clever' features, the latest generation of infotainment systems, and is the perfect COMBI-nation of form and function. Making it the ideal support car for all driving situations. So whether it is open time trials, points races, cyclocross, off-road training or track team events, the team will be well supported with the ŠKODA OCTAVIA COMBI.
Speaking on the continued partnership, Simon Barrett, ŠKODA Brand manager at Spirit Skoda said: "We are very proud to partner with UCD Cycling club as their official support car for the fifth year in a row. The challenging world of elite cycling in Ireland places high demands not only on racers themselves and their equipment but also on the technical and organisational support of the team during the season. We feel there is a real synergy between cycling and ŠKODA which we've felt while working with such a dedicated team of cyclists over the last four years."
"Having a team car as good as the Skoda Octavia has been an integral part of our success over the past number of years" said UCD Club Vice‐President and team manager Noel McGlynn. "Without the continued support of Spirit Skoda we couldn't compete at the level we do" added McGlynn.
Searching for a new or used Skoda? Discover your range of options at Spirit Skoda Sandyford.