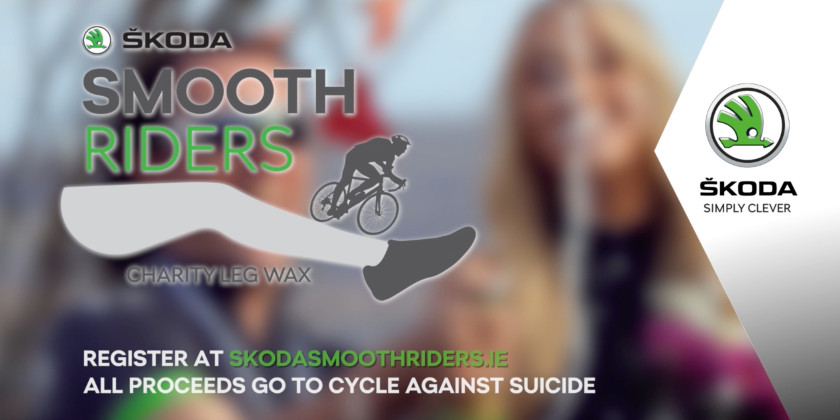 Wax Off with ŠKODA to mark Suicide Prevention Week
-ŠKODA launch SMOOTH RIDERS charity waxing event in aid of Cycle Against Suicide-
Monday, 4th September 2017: ŠKODA Ireland have today announced their first ever 'SMOOTH RIDERS' charity leg wax in aid of Cycle Against Suicide. The event is being held to mark Suicide Prevention Week and will see ŠKODA make a donation of €50 for every leg waxed, with the aim of raising €5,000 for the mental health charity.
ŠKODA have a long association with cycling, dating back to 1895 when they first produced bicycles, and this year they are marking the association through this new partnership with Cycle Against Suicide. ŠKODA ambassador and waxing expert Ellen Kavanagh is also supporting the initiative, along with the team from her company 'Waxperts', to ensure the process is as smooth as possible for those brave enough to take it on.
The ŠKODA 'SMOOTH RIDERS' charity leg wax will take place on Saturday 16th September from 11am until 2pm in Spirit ŠKODA, Sandyford, and there will be plenty happening on the day whether you're taking part, holding someone's hand or laughing at them! Red Rock actor David Crowley will be volunteering his legs for the occasion and there will also be prizes up for grabs, refreshments, DJ and a family zone so everyone can join in on the fun.
Speaking about the initiative, Mark Mulvaney, PR Manager at ŠKODA Ireland, said: "ŠKODA's roots were initially focused on two wheels rather than four and this year we were eager to mark our association with cycling in a really meaningful way. Waxing in the cycling world is not an uncommon occurrence so we were delighted to be able to join forces with Cycle Against Suicide to create our SMOOTH RIDERS event. We want to donate €5,000 to the charity so we're calling on everyone to get on board and help us reach the target. So be brave, bare your legs and help us to raise as much money as possible!"
Also speaking ahead of the Smooth Riders event, Noel Mostyn, Chairman of Cycle Against Suicide, added: "We are very grateful to ŠKODA for thinking of us and we're really looking forward to what should be a fantastic day to mark World Suicide Prevention Week. At Cycle Against Suicide, our main objective is to raise awareness of the considerable help and supports that are available for anyone battling depression or self-harm, at risk of suicide or those bereaved by suicide. We plan to put the money that ŠKODA donate towards our programme for transition year students, so we can raise mental health awareness in secondary schools across Ireland."
The ŠKODA 'SMOOTH RIDERS' charity leg wax takes place on Saturday 16th September in Spirit ŠKODA, Sandyford, Co. Dublin, from 11am until 2pm and ŠKODA are calling on the public to register to take part at www.skodasmoothriders.ie
Get a sneak peak of what's to come at the ŠKODA Smooth Rider charity wax here: http://bit.ly/2gEPP5P